We adopted Clyde in January 2018, he was five years old when we welcomed him into our home and hearts. Being a French Bulldog we knew the heat would be an issue for Clyde, but we noticed Clyde struggled with his daily walks and even in mild weather, his breathing was strained. He sounded like a tractor even when he stood still!
Clyde also found it hard to keep his food down and would frequently bring his food back up. This was horrible for him (and us), he also would vomit bile when he would overheat. Clyde showed no interest in playing with toys at home and was usually a very lethargic pooch.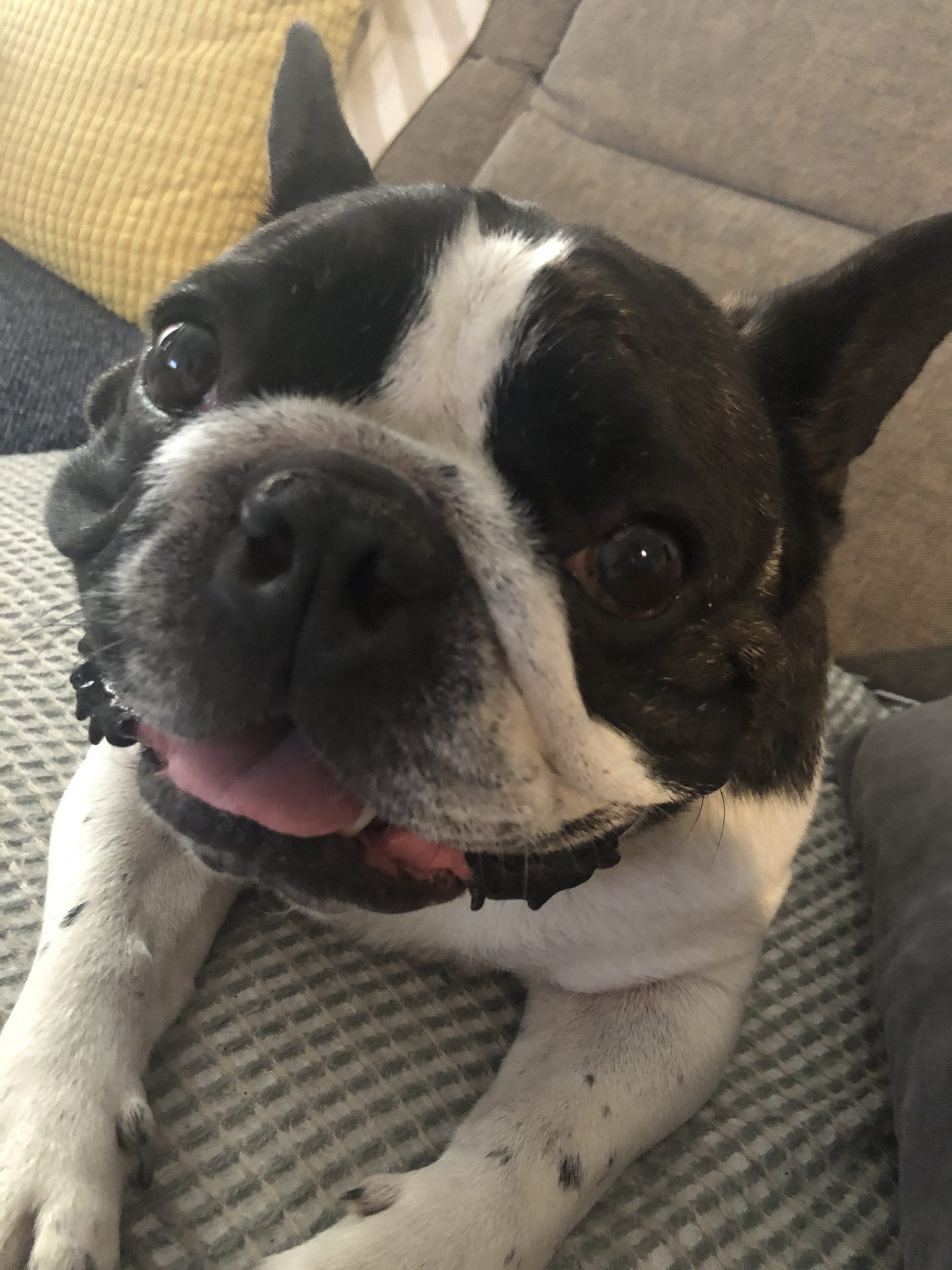 After a few months of getting to know Clyde and letting him settle into his new home with us we reached out to Dr Marcus from Southern Animal Health (SAH) to discuss correcting Clyde's Brachycephalic issues. Marcus was a wealth of knowledge and spent a lot of time talking us through the procedure, recovery and general Frenchie health and well being. We cannot thank Marcus enough for the numerous calls and emails leading up to Clyde's Brachycephalic surgery.
My partner and I were worried about Clyde's recovery given he is an older dog, and suffered terribly with vomiting. Marcus spent so much time running us through everything and providing a lot of information on Dr Karin Davids which made us feel comfortable and we totally trusted Clyde was in great hands.
On the day of the surgery the team at SAH called us to keep us up to date on Clyde's progress, Clyde not only required palate thinning, but also shortening of his pallet (I highly recommend correcting both issues if required, it is SO important!). Clyde also has his nostrils widened (otherwise known as nares) during his surgery, again we would strongly recommend this if it is required. We understood that Clyde would potentially require both thinning and shortening of his palate prior to the surgery, once SAH commenced his surgery this was confirmed and we gave Dr Karin the go ahead to proceed.
Clyde came home the same day of surgery and from the moment we picked him up we noticed a huge improvement. We are now a few months post surgery – Clyde no longer vomits, he loves going for walks; he even runs! He has a new found love for toys and playing at home and he only occasionally sounds like a tractor; but a much smaller one! Clyde's pallet was not only long, but also very thick.
I can honestly say Clyde would not have lived the healthy, happy life he has now without this surgery, it has literally changed his life for the best! Because of the time and care Marcus and the team at SAH took educating us, we now have a healthy and happy fur baby and we cannot thank Marcus, Dr Davids and the rest of the team at SAH for everything!
If you have a dog that is suffering like Clyde was, please reach out to the amazing team at SAH, even if it is just for a chat and to educate yourself on the procedure. You won't regret it.
– Clyde's Owner Jacqui