The reality is that veterinarians generally have vastly different criteria than breeders for choosing a healthy puppy. Breeders adhere to standards that are for the show ring, not health, whereas veterinarians are more interested in health. So with this in mind,
What do you need to know to choose the healthiest pup you can?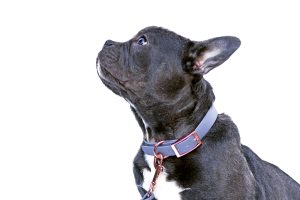 We suggest you follow these guidelines:
1. Look at the parents as well as the pup, but you gain more from the parents.
2. Choose as wide nostrils as possible.
3. Choose the longest noses you can find (yes we agree shorter noses are cuter, but that comes with a price. That price is a sadder pup through life and far higher veterinary costs. So please be acutely aware of this when choosing your pup).
4. Choose longer necks and narrower chests. Cambridge studies are showing that this is a better predictor of less breathing concerns than even long noses. In our opinion the classic stocky dog that many breeders prefer are the worst for health concerns (including back problems).
5. Ideally see if they have been back scored but do no accept the back is healthy because he/she has passed a back x-ray. (See a more detailed explanation below).
6. If the puppies have been DNA tested, that's good.., but place very little emphasis on their meaning and be extremely cautious of any breeder saying your dog will be healthy because DNA tests are negative. (See a more detailed explanation below).
7. If possible, watch and play with the parents for 15 minutes. How noisy are they? How much do they need to stop and rest?
8. Behaviour: Ensure parents and pup are friendly and happy, and that you can open their mouths and play with them.
Some Considerations
Breathing Concerns
Every brachycephalic has them, it's just a matter of degree. It is irrelevant what your breeder tells you about breathing concerns as they pretty much all say their dogs have never had any breathing concerns!
There is no testing, standard or certificates for breathing concerns so you need to follow the above guidelines. Shorter, wider necks, narrow nostrils and shorter noses all mean a much higher chance of breathing concerns.
Longer noses, longer necks, wider nostrils and narrower chests are less chance of more severe concerns.
Most of these dogs have deformed vertebrae (Frenchies up to 80%). It's a massive breed problem that has been ignored and these breeds are severely over represented for moderate to severe back concerns such as prolapsed discs, paralysis, and pain.
There are some back scoring systems in place that your breeder may or may not have engaged in. If they have, that's good, but it needs a strong explanation. Our concern is the current systems which are employed are grossly inadequate, passing healthy backs that potentially still have severe and significant problems. Here's why:
Our understanding is that one system scores deformed vertebrae as 1,2 or 3 according to severity.
A grade 3 is a severe deformed vertebrae that has a high chance of causing pain or a prolapsed disc. A grade 2 is a moderately deformed one and a grade 1 a mildly deformed one.
An overall score of 15 has been considered a pass, and reasonable to breed from. Potentially, such a score may entail 5 shocking grade 3 vertebrae (if no other deformed ones exist), or 10 moderately deformed ones.
Hence our advice is this: Place little emphasis on a breeder claiming the back is healthy as it's been x-rayed, and passed. Ask for the x-rays for both parents and pup if they have been done, and get your own brachycephalic vet to look at them and interpret any score that it comes with. At the very least, ask the exact score, how many of each type of vertebrae and where in the spine they are. (There are different areas that carry different risks).
Now it's almost impossible to get a back with a zero score (the perfect score) so ideally we would say you don't want anything with a single grade 3, and no more than an overall score of 5 (I.e: There may be 2 moderately deformed vertebrae and 3 mildly deformed ones). We feel this should be the minimum standard for breeding – but it's not. In our opinion the standard is severely inadequate for breeding which is allowing this problem to continue.
DNA Testing
This one worries us the most.
DNA testing is done for a number of extremely rare conditions that are almost nonexistent anyway, and none of them test for hemivertebrae or breathing concerns, allergies, hip dysplasia, cherry eyes, or any of the encephalitis seizure problems these breeds can suffer.
So even more so than the back tests, place very little importance on DNA tests and be especially cautious of a breeder claiming you'll have a "healthy dog" because they are DNA negative.