Melbourne Bulldog Clinic (MBC) is one of few clinics in Melbourne to offer Tightrope surgical repair of cranial cruciate rupture. Dr Karin Davids learnt this exciting new stabilisation technique from the world renowned Western Veterinary Conference in America in 2015, bringing the skill back to Australia.
MBC now has two surgeons performing Tightrope procedure, Dr Davids and Dr Voyce. Having recommended this procedure as superior to the standard DeAngelis stabilisation technique for the last few years, MBC is now convinced that this is a far better option for all patients with ruptured cruciate ligaments. For the cost conscious, DeAngelis still remains a good option (especially up to 15 kg's), but the larger the patient the more we recommend Tightrope.
This stabilisation surgical procedure is similar to DeAngelis in that it stabilises the moving joint after cruciate rupture, but it differs in three main ways:
1) Instead of using fishing line, a Kevlar/Titanium implant is used that is both stronger and less likely to stretch or move, causing some loosening after surgery.
2) This implant anchors in a completely different manner to DeAngelis, allowing for far less potential movement which can cause loosening before healing has taken place, and also allowing for more comfort – lessening the chance that it needs to be removed compared to DeAngelis.
3) The Tightrope technique also allows for a prosthesis that more closely approximates the real angle of the cranial cruciate ligament, compared to DeAngelis.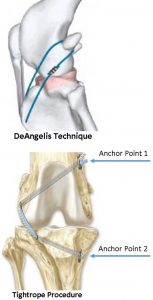 The DeAngelis suture anchors around a small moveable bone called the fabellar which sits behind the distal end of the femur. This fabellar can move which causes loosening of the prosthesis and discomfort however, the Tightrope anchors to the much more solid bone of the Tibia and femur itself. It does this via tunnelling two very small holes right through the distal femur and proximal Tibia. Specialised equipment is then used to thread the Tightrope through these tunnels, then tightening the prosthesis via clamps that anchor to the opposite side of the bone. The anchoring of the Tightrope is far more solid and also allows the prosthesis to more closely approximate the actual cruciate ligament when compared to DeAngelis.
One of the exciting things about this technique is that not only is it superior for all dogs with ruptured cruciates, we are increasingly looking at using it for larger dogs who's owners may not be able to afford a levelling procedure such as TPLO or TWO.