Long post but might help people who feel they are in the same position we were until I got in touch with Marcus Hayes. I am based in Scotland but had seen a lot of his advice to others so reached out to him in Australia to get his views on my boy.
We had boas surgery 2/5 elements (palate shortened and nostrils widened) in April, he was 14 months old. With a history of about 5 months of regurgitating and vomit, falling asleep sitting up, restless nights. Not a huge problem with exercise but he did over heat a fair bit.
The regurge/vomit continued since, although not quite as often but still on average roughly 3 times per day and usually always after taking a drink of water.
When the initial surgery didn't work my vet suggested he have blood work done and pancreatic levels were a little high so we started digestive enzymes. This didn't make any difference but our vet advised to keep taking them. I pushed with my vet that I wasn't convinced the surgery he had was enough so she then suggested an endoscopy and ultrasound and she was convinced his regurgitating wasn't boas related but said they would asses his airways again while doing endoscopy. The endoscopy showed many ulcers on the stomach and a very inflamed esophagus. Biopsies were taken and ultrasound performed. The gastro specialist suggested IBD and possibly helicobacter. The soft tissue specialist said all airways were absolutely fine. No need for further surgery. Biopsies showed no IBD but a trace of helicobacter so we started treatment for that. At this point we had already spent about £6000 on surgery and all other investigations. (This is roughly $1,097AUD).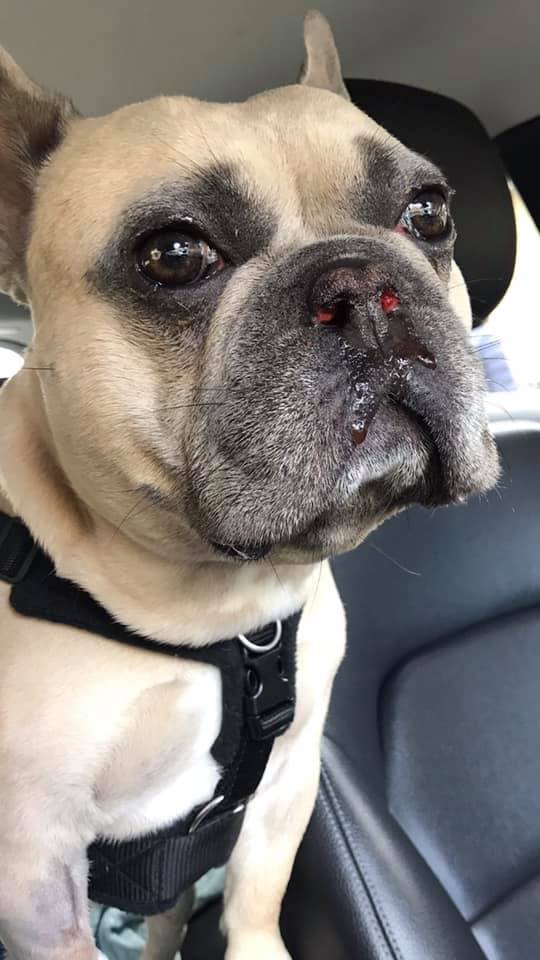 Issues continued and this is when I got in touch with Marcus as I was convinced his digestive issues were secondary to his boas issues and my vet was much more interested in treating the digestive issues and dismissing the boas. Marcus confirmed what I was thinking and gave me the information I needed to go to my vet and tell them I wanted a referral to Queens vet hospital Cambridge. Cambridge performed an initial 45 mins assessment with Rocco and graded him in the highest category for boas. The amazing surgeon said that any pressure on Roccos throat caused him to stop breathing completely.
We then had a CT scan which showed he had everted saccules, enlarged tonsils and his nares and palate needed more taken away than had initially been done and also the palate needed to be thinned! All 5 elements of surgery were needed to be done but my vet had seen no need for any further surgery! CT scan showed he also needed LATE which was performed at the same time.
Cambridge did say Rocco was very severe so may never be 100% but his life should be so much better than what it has been. I hope this post helps anyone who is willing to learn and maybe will give others the confidence to ask their primary care vet for a referral to a vet that knows exactly what they are doing.