At Melbourne Bulldog Clinic we offer routine and more advanced veterinary surgery. Standard de-sexings and day procedures such as minor lumps and abscess drainage are all performed on site.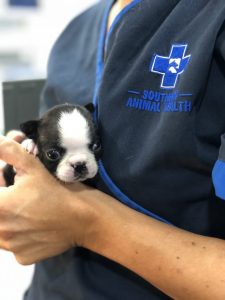 We also do more advanced surgeries such as cruciate ligament repair, luxating patellas, intestinal surgery, thoracic surgery and even advanced cancer surgery including wide margins and rotational skin flaps.
We also offer some of the more "pioneering" surgeries such as hip denervation. Hip dysplasia is a debilitating condition that often results in euthanasia when pain killers are no longer working. Hip denervation is an operation whereby we actually remove the nerve supply to the painful hip. Some of the results so far have been remarkable, with dogs having a new lease on life no longer experiencing the pain of severe hip arthritis. Hence for any surgical procedure feel free to discuss the options with us. We find many clients are sent to specialists from various vet clinics for operations costing thousands of dollars which we could do for a fraction of the price.
Melbourne Bulldog Clinic uses only the most modern anaesthetics and anaesthetic monitoring equipment to ensure the safest possible conditions. Every surgical procedure has a nurse on hand to constantly monitor the state of the patient.