At Melbourne Bulldog Clinic (MBC) we continue to actively monitor the Coronavirus (COVID-19) situation, and will be providing information here and on our Facebook page as soon as new information is available.
Our clinic is currently operational as per our normal hours however there is every possibility that we may transition to a reduced rotation roster and we would therefore scale down our hours of operation.
We ask that you be understanding of the extra pressures our staff are under due to this difficult time and kindly be aware of the following requirements:
If you are showing any signs of ill health (even just a throat tickle), have potentially been exposed to someone who has been overseas or potentially exposed to COVID-19, that you please call to reschedule your appointment. In order to continue to be able to assis

t your pets, we need to ensure the health and safety of our staff.

If you are in quarantine and your pet needs to be seen for a medical concern, phone consultations may be arranged. Please phone our nursing team for further advice.
Please use hand sanitiser before entering our building and/or wash your hands and follow the latest recommendation for hygiene. Follow the correct sneezing and coughing etiquette in accordance with the WHO guidelines avoid unnecessary contact with the reception desk and other surfaces.
There is no evidence that companion animals can spread the disease to humans or other animals. Click here for more information regarding COVID-19 and your pet/s.
Should you require medication or food for your pet, kindly call ahead so we can prepare this for you and remain compliant with social distancing.
Only one person is to attend our consultations with their pet. We may require you to wait in your car before your appointment.
We are no longer accepting payment via cash. Regretfully, if you only have this method of payment we will not be able to see you.
Consultations will be shortened to as short a time as possible. For lengthy explanations we may send you home and continue via phone once your pet has been examined.
We will not be providing public toilet facilities at the clinic at this time.
Subject to further government recommendations or any staff being quarantined due to suspicion of infection, further significant restrictions to our service may end up applying.
As a veterinary clinic, we already have procedures in place to ensure that our environment is as sterile as possible at all times, but you may notice some additional precautionary measures in place. At this stage there is no evidence of pet to human transmission.
We ask that you kindly refrain from calling us for inquiries regarding our COVID-19 position and for further updates regarding this constantly evolving situation, that you refer here or to our Facebook page. Phone inquiries of this nature are tying up our staff and phone lines and we will not be able to cope with the influx of calls if we revert to a reduced roster. We are working hard to ensure we can continue to provide complete veterinary care and appreciate your support in helping us achieve this.
We wish you the best during this difficult time and thank you for your understanding.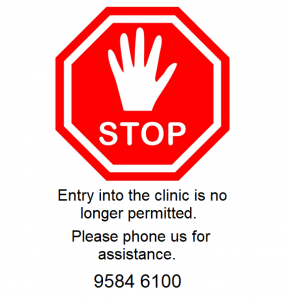 26/03/20 UPDATE
🚗 In the interests of your safety and staff member safety, we have now moved to 'car consultations'.
⛔️ Entry into our clinic is no longer permitted under any circumstances. You must phone us from your car.
👨‍⚕️ Our staff members are here to assist so we appreciate your patience and understanding during this difficult time while we adjust. Should your pet require repeat medications or if you wish to purchase your regular food from us, please phone ahead (9584 6100) so we can guide you through this.
💰 Cash payments are no longer being accepted and insurance forms should be emailed to info@southernanimalhealth.com.au. Changes to our processes may result in extended delays so we ask you to kindly bare with us. We urge you to inquire with your insurer about moving to online claims (if you are not already doing so).
⏰ Our hours may fluctuate during this time so we urge you to always phone ahead – 9584 6100. Due to us having to adapt to a different routine, if you contact us via email please expect longer than usual delays in us replying.
🙏🏼 Thank you for your understanding while we continue to dedicate ourselves to caring for your pet. From all at SAH 💙
Due to the implementation of our nurses and vets working in designated groups, for the time being we are altering our hours.
Now that we are running car consultations, we urge you to kindly phone ahead for any appointments, medication or food collection to avoid disappointment.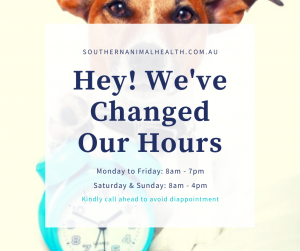 Suspended due to staff shortages and lack of consultation time availability. Suspension in place until further notice for:
House Calls
Free Dental Checks
Pet Transport Service