As a first time British Bulldog owner, I never knew what to expect when at 3 months old our once happy, healthy Winnie displayed signs of having difficulty breathing, shortly it became very raspy and more frequent between breaths. Other signs of; being off her food, vomiting, nausea, as well as physical signs of her ears constantly sitting back due to not being able to catch a proper breath. Once taken to the Vet, on X-ray Winnie was diagnosed with Aspiration Pneumonia, they recommended that if a recovery was made by Winnie, that we should get her airways further evaluated due to a collapsed Trachea. With treatment from the Emergency Vet, Winnie beat the odds and made a full recovery from Pneumonia but we were informed that cases of Bulldogs with Trachea issues had a small chance at a long lifespan. This meant that our Winnie wasn't expected to live a very long life. From bringing Winnie home, as an owner I felt very cruel at the time and constantly questioning whether I was doing the right thing as I could tell that my Winnie was struggling with her breathing.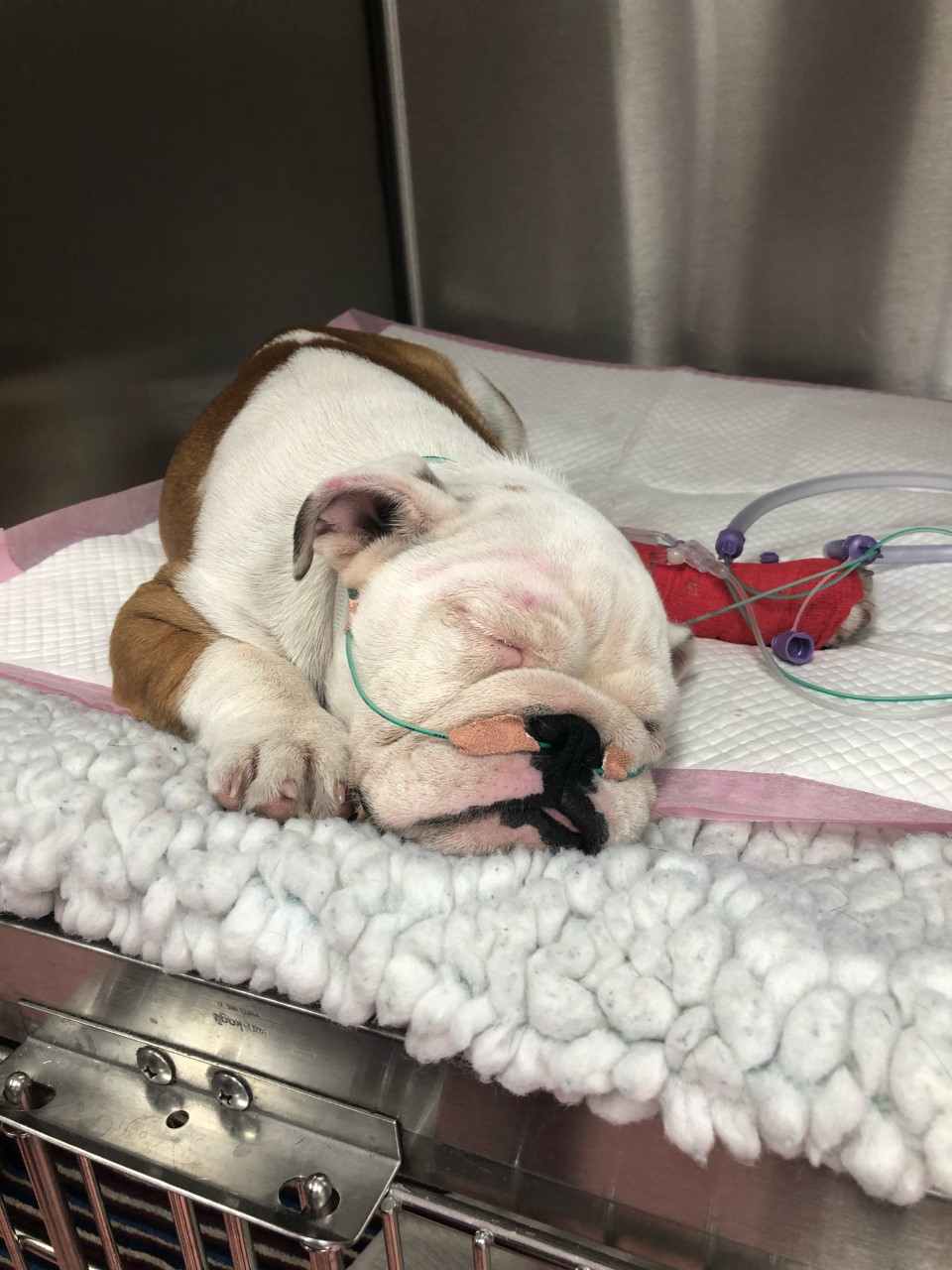 After sourcing Southern Animal Health who specialise in short-nosed breeds, we were scheduled a consultation in the morning with Marcus Hayes who took full history of Winnie, had a full assessment in which we were told just by looking at her, and her breathing that her nares and soft palate was an issue. He liaised with Karin Davids (Veterinary Surgeon) and within 24 hours, we received a call with a surgical action plan. This consultation showed to me that as bulldog owners we were doing the right thing by allowing them to give her a better quality of life, and us a second chance at hope with our Winnie.
The correction of her stenotic (narrowed) nostrils
Resection (shortening) of elongated soft palate
Removal of everted laryngeal saccules
Marcus and Karin found through chest X-rays that Winnie had a very stenotic windpipe and an endoscopy of the trachea showed no evidence of tracheal collapse.
During surgery, I was given three updates of reassurance about Winnie and how she was going. Winnie showed good progress post-surgery almost immediately and even got to pick her up early! Her breathing from this day was a vast improvement and allowed her to breathe without struggle.
Southern Animal Health showed outstanding care and compassion throughout the whole process, even to this day. Anyone who is sharing this experience as a Bulldog/short-nosed breed owner, don't give up! Looking at Winnie who is coming up to 2 and is back to her happy and healthy self. We can't thank the team at the Southern Animal Health, especially Marcus Hayes and Karin Davids enough for giving our Winnie a second chance.